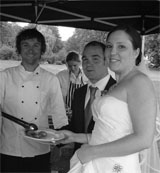 About Nyama Wedding Catering
Nyama has successfully catered for Wedding Receptions since '03 and you will struggle to find a more experienced BBQ Style Wedding Caterer around.
We are big believers the relaxed Wedding Reception. Gone are the days of the traditional Wedding where 6 Course sit down meals were served and guests was sat down at tables for hours.. bored out of their minds. Our Unique Wedding Braai (BBQ) Menu is specifically designed for a more chilled-out modern style Wedding where guests have a chance to mingle and enjoy the amazing flavours of our Braai's (Barbecues) sizzling away in the background.
Although more relaxed, our service is still super professional, and the food of a very High Standard. But being South African Themed we don't only believe in top Quality cuisine but also great Quantities. So nobody will be left feeling hungry at the end of the evening. There will most likely be some leftovers for those feeling the need to have some more Nyama to soak up that alcohol later in the evening.
Our prices are super competitive and for just over £20 per person you will get some awesome Braai Nibbles (our meatier version of the canapé) and a Main Course that includes either Hog or Lamb slow Roasted on the Spit with some tasty Sides.
We can also provide much more than just the food! We also do China Plates and Cutlery, Extra Staff Members, Reception Drinks, Cash Bars and much more.
If you're struggling to find a Venue that doesn't want to stuff their own catering down your throat (excuse the pun!) then have a look at our great selection of Venues where we have catered before.
If this is not enough convincing you absolutely have to join us for one of our famous Open Days where you will have the chance to have a little taste of Nyama. More info available here.
So to summarize: If you're looking to provide the WOW factor in your Wedding Catering but you're not prepared to spend tens of thousands of £'s THIS IS IT. For sure. Great Quantities, even better Quality, Friendly Service, Affordable Prices, Relaxed Vibe: Nyama Catering..the only cool Wedding Catering Solution.